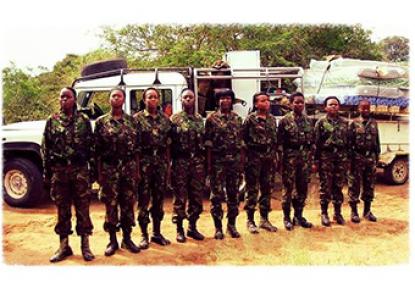 Project Name

5 GPS for Black Mamba APU

Project Lead

Amy Clark

Field Partner

Transfrontier Africa (Black Mambas)

Description

Anti-poaching is a major problem in the area where the Black Mambas operate and they are constantly plagued by rhino and bush-meat poachers. In addition to antelopes, other endangered species such as wild dogs and cheetahs are also sadly the victims of snaring. This project is to raise funds to purchase 5 GPS devices for the Black Mambas Anti-Poaching Unit in South Africa.


At the time of this project's creation, the Black Mambas current needs include:

GPS devices (5)
VHF Cables (6)
VHF Receiver (3)
VHF Antenna (3)
HandHeld Radio (3)
Base Radio (2)
Handcuffs & Pouch (10)
Cutlery (12)
Billie & Dixie (6)
Pepper Spray (11)
Pepper Spray Pouch (20)
Metal Mugs (8)
Webbing Belts (11)

While we are fund-raising for the GPS devices in particular, the funds raised will go into the general fund to allow for the purchase of any of the above resources required, at the time that funding is received. Help us get the Black Mambas the full resources they deserve. Funds will be delivered to the Black Mambas' U.S. 501c3 partner Rhino Mercy for distribution to Transfrontier Africa, the Black Mambas parent organization.

Transparency

100% of your donation goes to fund the conservation project of your choice and WikiPop will send you an update after the project is completed. Once the project has been fully funded you can track the fund transfer and other details in our Transparency Document. WikiPop is open for all to see.