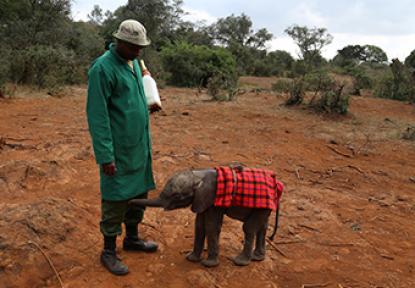 Project Name

Orphan Elephant Care

Project Lead

Dame Daphne Sheldrick

Field Partner

The David Sheldrick Wildlife Trust

Description

Through this project we will be supporting the care of orphaned baby elephants like Ndotto. All funds raised will be driven into The David Sheldrick Wildlife Trust's Orphans' Project, which rescues and cares for orphaned elephants like little Ndotto, with funds raised for the Orphan's Project at The David Sheldrick Wildlife Trust.

Ndotto was found confused on the very peak of the Ndoto Mountains, in Kenya's remote Northern Frontier District alone and scared in a throng of sheep and goats. This little calf had evidently become mixed up in the nomadic Samburu tribesmen's livestock soon after he was born. It is probably that the human presence is what frightened his mother leaving the abandoned calf mixed up in the livestock. The traditional Samburu pastoralists here live in an extremely isolated and inaccessible area of Kenya, a beautiful and majestic landscape. Despite many of the Samburu people being sympathetic and use to living this life of coexistence between man, their livestock and the wild animals, sometimes human wildlife conflict can unintentionally create these kinds of tragedies.

"We called the new arrival Ndotto, after the Ndoto Mountains, which in Swahili means to dream. As a newborn Ndotto's journey was challenging and fraught from the beginning, and it took three and a half months before he began to teeth confirming that he was certainly born premature by a couple of months. It is for this reason that we have delayed placing Ndotto onto the fostering program, frightened to jinx the miracle. He is through his teething with four molars out, remains tinier than any of the new born babies coming into our care despite being five months old now, yet he has a huge personality." - Dame Daphne Sheldrick

The total cost of caring for an orphaned elephant at the DSWT Nursery each month is approximately $900.

All donations received will be directed to the U.S. Friends of the David Sheldrick Wildlife Trust, a U.S. registered 501c3 charity dedicated to supporting the DSWT in the protection and conservation of wildlife and habitats in Kenya.

Transparency

100% of your donation goes to fund the conservation project of your choice and WikiPop will send you an update after the project is completed. Once the project has been fully funded you can track the fund transfer and other details in our Transparency Document. WikiPop is open for all to see.